Minimalism is a trend that has been on the rise for years now. People are looking for simple and functional solutions for their everyday needs, including wallets. The traditional bulky leather wallets are becoming a thing of the past as consumers opt for slim, sleek alternatives that still offer ample space for their essentials.
Sleek and Safe has taken this trend to a whole new level by creating minimalist leather wallets with added RFID protection. These wallets are designed to be both stylish and secure, offering peace of mind to those who carry them.
Ulderico Genuine Leather RFID Blocking Men's Wallet
This Ulderico Genuine Leather RFID Blocking Men's Wallet is practical, convenient, safe, user-friendly, versatile, and a large-capacity design, suitable for carrying around, and will serve as an EXCELLENT gift idea for yourself and your loved ones!
What is RFID Protection?
RFID (Radio Frequency Identification) protection is a feature that helps prevent unauthorized access to your personal and financial information stored in your cards. The wallets are made with RFID-blocking materials that prevent skimming, the process of stealing information wirelessly from your cards.
Why choose Sleek and Safe wallets?
Minimalist design: Sleek and Safe wallets are designed to be slim and stylish, perfect for those who want to simplify their lives.
High-quality leather:These wallets are made with genuine leather that is soft, durable, and ages beautifully with time.
Ample space: Despite their minimalist design, these wallets offer enough space for all your essentials, including cash, cards, and even coins.
RFID protection: With RFID protection, you can be sure that your personal and financial information is secure.
Versatile: These wallets are suitable for both men and women and come in a range of colors and finishes, making them a great choice for anyone looking for a minimalist and secure wallet.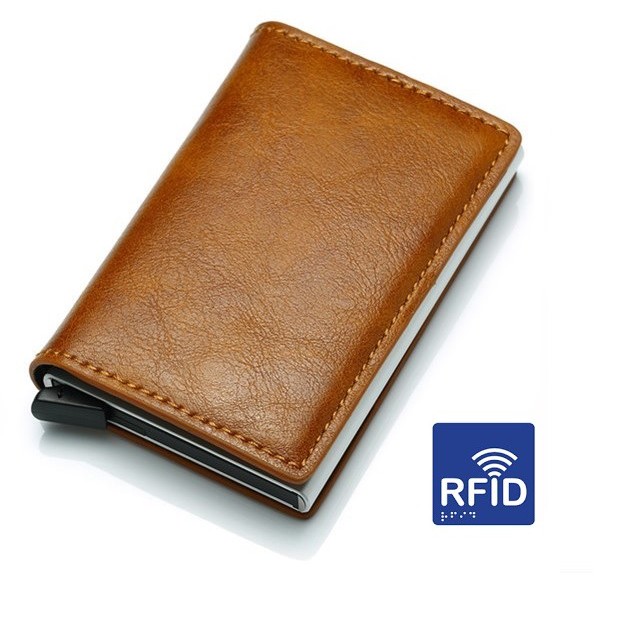 In conclusion, Sleek and Safe wallets are the perfect solution for anyone who wants a simple and secure way to carry their essentials. With RFID protection and a minimalist design, these wallets are both stylish and practical. Upgrade your wallet today and experience the sleek and safe difference!
Don't stop now! Take your appreciation for quality leather to the next level with our complete leather wallet collection. Explore now and upgrade your style today!