There are several things to think about while selecting a leather wallet. You want it to be sturdy and functional in addition to having a fashionable appearance. In this article, we'll discuss some important factors to bear in mind when selecting the ideal leather wallet.
Orsino Genuine Leather Vintage Wallet
This Orsino Genuine Leather Vintage Wallet is practical, convenient, safe, user-friendly, versatile, and has a large-capacity design, suitable for carrying around, and will serve as an EXCELLENT gift idea for yourself and your loved ones!
In this guide, we'll explore some key considerations to keep in mind when choosing the perfect leather wallet.
Kind of leather:The wallet's durability, texture, and look will all be influenced by the type of leather used to construct it. Top-grain leather strikes a fair balance between quality and price while full-grain leather is the finest quality and most resilient. The lowest quality leather is genuine leather, which often has a shorter lifespan.
Style: Leather wallets come in a variety of styles, including bifold, trifold, and cardholder. Bifold wallets are the most popular and feature a simple design with two sections that fold in half. Trifold wallets offer more space but can be bulkier. Cardholders are perfect for those who only carry a few cards and want a minimalist design.
Size: Consider what you need to carry in your wallet and choose a size that fits your needs. If you only carry a few cards and some cash, a smaller cardholder may be sufficient. If you need to carry a lot of cards and cash, a larger bifold or trifold wallet may be a better option.
Color: Leather wallets come in a range of colors, from classic black and brown to bold colors like red or blue. Consider what colors will match your personal style and wardrobe.
Brand:Look for brands that are known for their quality craftsmanship and materials, such as Saddleback Leather or Bellroy. These brands may be more expensive, but they often come with warranties and will last longer than cheaper alternatives.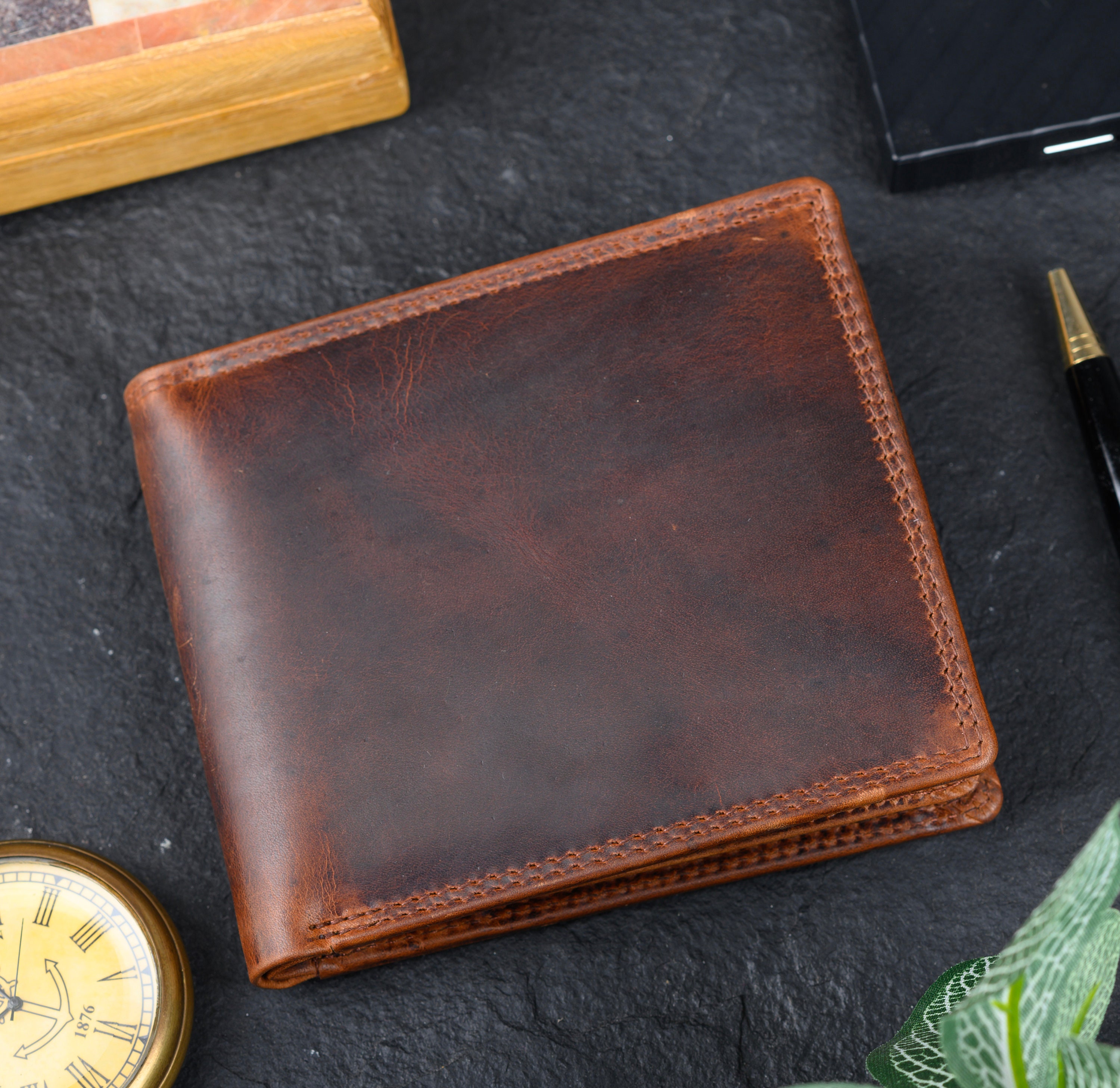 Choosing the perfect leather wallet takes time and consideration, but with these factors in mind, you can find a wallet that not only looks great but also meets your practical needs. Don't forget to take care of your wallet by regularly conditioning the leather to keep it looking its best.
Don't stop now! Take your appreciation for quality leather to the next level with our complete leather wallet collection. Explore now and upgrade your style today!