The Best Retro Motorcycle Leather Belt Bag is a great new product in the marketplace. It is designed to provide you with an elegant look while keeping your items safe and secure. The best part is that you can use it to carry around your laptop, clothes or other items that you need on a daily basis. This belt bag has been carefully crafted from high-quality leather, which makes it durable and long lasting.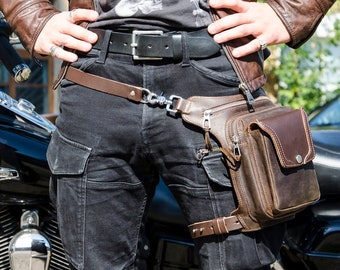 The BestRetro Motorcycle Leather Belt Bag is very versatile and can be used in many different ways. You can wear it around your waist or even as a shoulder bag if you prefer. It comes with an adjustable strap so that you can make sure that it fits perfectly without any trouble at all.
This belt bag comes with several compartments inside so that you can store all of your belongings safely and securely without worrying about them falling out when you open the bag up again later on after using it for something else entirely!
The Best Retro Motorcycle Leather Belt Bag has been designed to look great with all kinds of outfits no matter what they consist of or how much money they cost! You can get this amazing bag in many different colors so that there will be something available for everyone who wants one!
Retro Motorcycle Leather Belt Bag
This Retro Motorcycle Leather Belt Bag is PERFECT for the cruiser-style motorcycle enthusiasts! Harley, Kawasaki, Yamaha, doesn't matter which brand you ride, this item will be suitable for you!

The bag is made of 100% genuine cowhide leather, which is a tough material that can be used for many years. The bag has a classic look and design that makes it stand out from other products in the market. It is also very durable and does not break easily when dropped on the floor or when exposed to water.
The belt strap comes with two buckles that help you adjust the length of the belt to your desired size. This makes it easy to wear with different types of clothing such as jeans, pants and skirts without having to worry about fitting issues. The belt strap also features an adjustable buckle at its end so that you can easily adjust its length depending on how much space you want between your waist and hips.
Marcello Multifunction Leather Men's Travel Bag
This Marcello Multifunction Leather Men's Travel Bag is PERFECT in every way! Handmade and with real leather, this travel bag is strong and tough and is able to carry a heavy load without breaking. Its aesthetically pleasing outlook and user-friendly design make it a wonderful gift idea!
It comes with two side pockets where you can store all your important items such as keys, wallets, phones and other personal belongings without worrying about losing them while traveling or going on a long ride on your bike.
The Retro Motorcycle Leather Belt Bag is an excellent choice for those who want to look stylish while carrying their belongings around town in a convenient way. If you are interested in purchasing this product, please clickhere to get more information about it today!