Types of leather. Just how many are there?
We have categorized our leathers according to their natural characteristics, quality and finish in order to help you find the best leather for your needs. Our Italian leather grades are based on a minimum of three categories: the tanning process, the type of hide used, and the surface treatment. This way you can tailor your search with filters that match your requirements and make a more informed decision. This means that no matter what kind of items you are looking for, our categories will guide you through all the different types of leather and help you find what suits you best.
Leather is a material made from the skin of animals like cows, buffalo, goats, sheep and pigs. The skin used for leather is known as hide. Leather is used to make shoes, belts, jackets, bags, etc. Leather has a long history in the world of fashion. It has been used since ancient times and still continues to be one of the most popular materials for making leather goods. There are various types of leather available today. Let us look at some of the most commonly used kinds of leather
Types of Leather
1.Full Grain Leather:
Full grain leather is the highest grade of leather money can buy. It comes from the top layer of the hide and includes all of the natural grain. The imperfections on this type of leather are what makes it so unique. These types of imperfections are usually scars, marks, and veins that come from a life lived out in nature. Full-grain leather will not crack or peel and it only gets better with age. This is an exceptionally durable material that wears in over time instead of wearing out.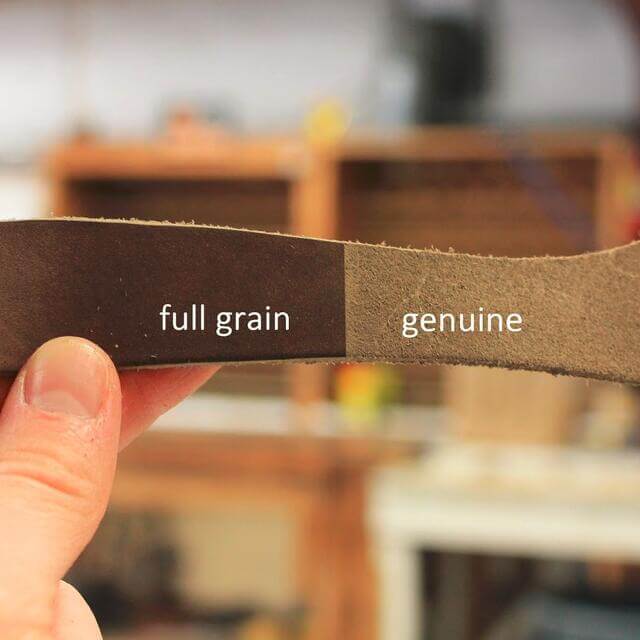 2.Top Grain Leather:
Top grain leather is the second-highest grade of leather you can purchase. It has had the top layer sanded off to remove any imperfections, which creates a smoother feel than full grain leather and many times reduces some of its natural strength and durability (we are not a huge fan). However, top grain leather is still considered very high quality and often has a protective coating added to make it more durable and stain resistant.
3.Corrected Grain Leather:
Corrected grain leather has an artificial grain applied to its surface. The imperfections found in full grain and top grain leathers are corrected by buffing them out creating a smooth surface for the artificial grain to be applied to. Correct Leather is graded for quality and durability based on its thickness and how it was tanned. The grade also depends on whether the hide has any imperfections — such as brands, scars and insect bites.
There are many types of leather, which is why we have developed an innovative leather classification system to help you navigate through them all.
If you found this guide useful, check out our full collection of leather bags.