Leather items have long been a timeless addition to any wardrobe. They never go out of style, from boots to leather jackets. Personalizing them, on the other hand, enhances their uniqueness. The addition of personalized leather goods to your collection can give it a distinctive feel and help you stand out from the crowd.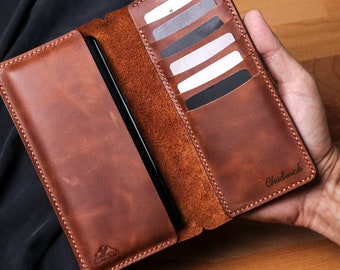 Wallets, keychains, phone covers, and even bags, and belts can all be made of leather and customized. The ability to customize leather goods is now simpler than ever thanks to technological advancements. All you have to do is choose the leather item you want to customize, then pick the font, color, and text you want to add. You have a leather item that is uniquely yours.
A wallet is among the most well-liked individualized leather products. A customized leather wallet is a wonderful present for a particular someone or even for yourself. The wallet may be personalized by adding your name or initials, which gives it a special touch. Your daily life will also feel a little more opulent with a custom leather wallet.
Vincenzo Leather RFID Wallet for Apple AirTag
Introducing the Vincenzo Leather RFID Wallet for Apple AirTag - the perfect combination of style, functionality, and security. Crafted from high-quality cow leather, this retro minimalist men's AirTag wallet boasts RFID-blocking technology to protect your personal information from theft.
A phone case is another well-liked individualized leather product. We carry our phones with us everywhere, so why not add a touch of elegance to them? In addition to looking fantastic, a custom leather phone case safeguards your device from dings and other harm. Your phone case can be customized with your name, initials, or perhaps a memorable quotation.
Moze Genuine Leather Universal Phone Case
This Moze Genuine Leather Universal Phone Case will allow you to reach your cell phone quickly! You never have to squeeze your cell phones in your pockets again! Get rid of that ugly pocket bulge now! Made of real leather, it is water-resistant and scratch-resistant, and will be able to last for a long time! Needless to say, this is also an EXCELLENT gift idea for yourself and your loved ones! 
Another fantastic leather item to customize is a bag or belt. Your outfit will seem more put together with a custom leather belt or purse. To your belt or bag, you can sew your name, initials, or even a memorable date.
Finally, customized leather goods are a wonderful way to give your collection a bit of individuality. They're wonderful presents for loved ones or even for oneself. There is no excuse not to add a leather item to your collection right away given how simple it is to personalize leather goods.
Don't stop now! Take your appreciation for quality leather to the next level with our complete leather collection. Explore now and upgrade your style today!